The Unique History of 340 Sibley...
The warehouse at 201 E. Fourth Street (address now 340 Sibley Street) was constructed by local businessman John Wann (1829-1905). Wann was born in Ireland and immigrated to St. Paul in 1865. He was one of the first officers in the St. Paul City Railway Company (organized in 1872) and platted Wann's Addition to St. Paul in 1874. He was a major stockholder in the St. Paul Electric Light and Power Company (organized in 1882).

Wann's building at 201 E. Fourth Street was built before St. Paul established building permits, but newspapers indicate the building was built in 1879 and suffered a fire in 1885. The wholesale grocer in the building lost an estimated $70,000 in product. Wann retained the services of local architect, Edward Bassford (1837-1912), to repair the damaged building. (Permit #2851, 8/9/1885) Bassford moved to St. Paul in 1866 and opened one of St. Paul most successful nineteenth century architectural firms. Wann also retained the services of Bassford for a more extensive building renovation in 1888, which included new storefronts, ventilation shafts, skylights, staircases and office partitions.

Later alterations included fire repair in 1903, new stairway in 1904 and basement fire repair in 1919. The new exterior elevations on Fourth and Sibley Street elevations cost $10,000 and were completed in 1926. (Permit #21628, 6/1/1926) Through the years, the building housed a number of wholesale companies including a spice wholesaler (1885), coffee roaster (1890), shirt and hat factory (1903) and electric supplies (1903). In 1919, manufacturers included Guiterman Bros., wholesaler of shirts and outer garments, and Huge Hirschman Co., wholesale dry goods. Boucher's restaurant occupied the corner storefront in the 1920s.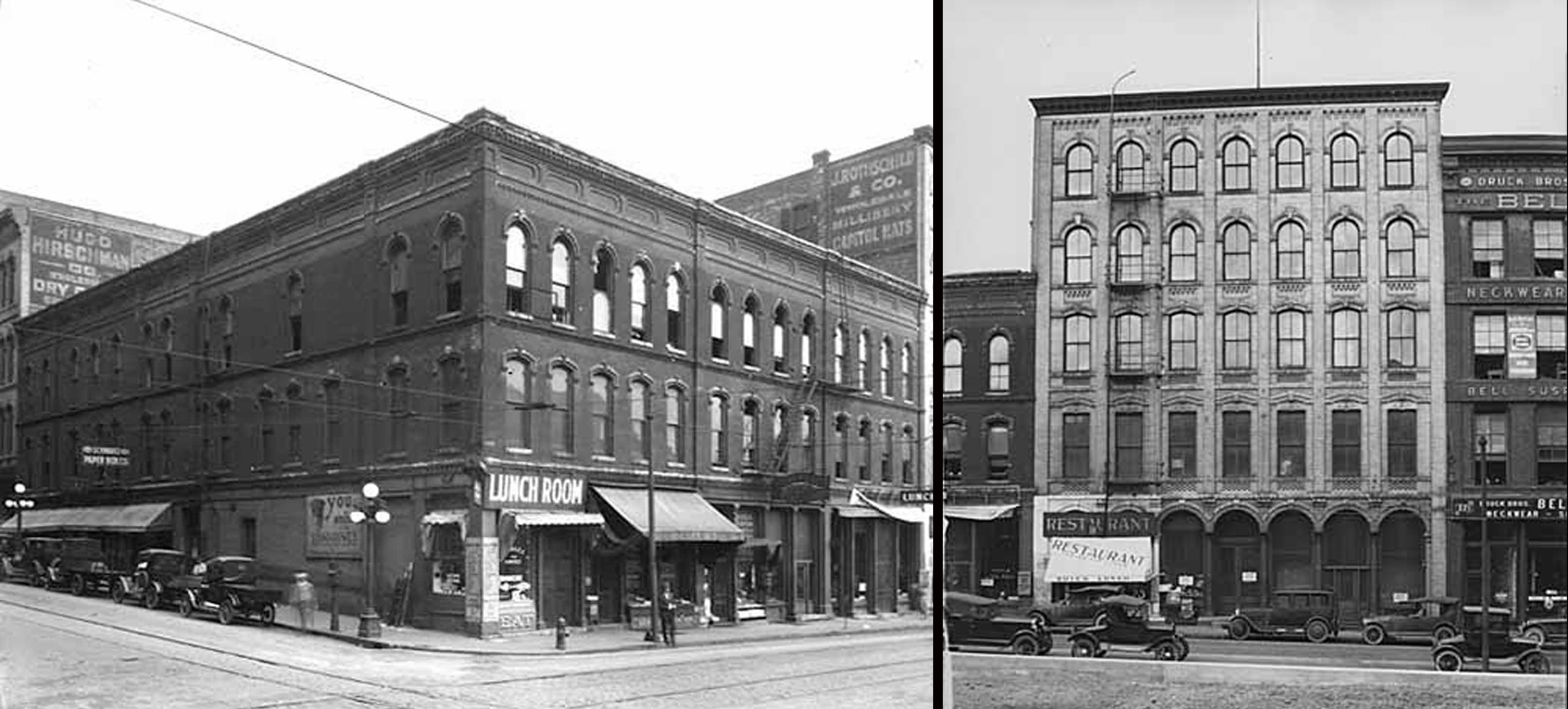 What was Renovated?
Restoration of the original hardwood floors, columns and beams

Restoration of the full height windows, which remain fully operational!

13' ceilings with open loft feel

New Roof & Insulation

New Elevator and Stairwells

All new plumbing, mechanical and electrical systems

New LED lighting throughout

New white shaker cabinets with soft close, full extension, and luxurious quartz countertops

Modern full bathrooms with bathtub, contemporary vanity and water-efficient toilet

All new storefront and new retail businesses on main floor (yoga studio, speakeasy in basement, and restaurants)